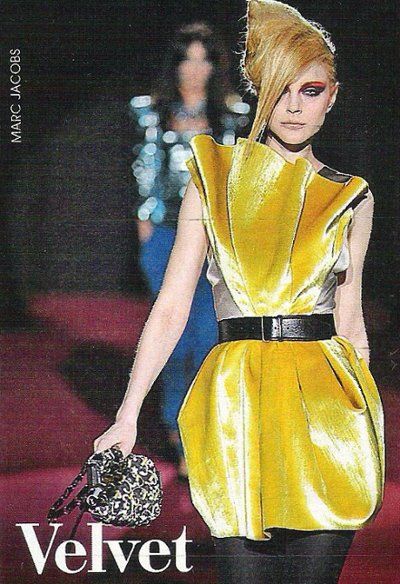 "Velvet has thrown off its dowdy image for autum. Arch modernists Francisco Costa, at Calvin Klein, and Christopher Kane, in London, have revived the age-old dévoré treatment whereby acid is poured onto areas of cloth, creating a sheer, burnt out patten. Instead of traditional swirls, however, they have created strong stripes and graphics. Elsewhere, velvet showed up in cocktail dresses that are anything but frumpy."
HOW TO WEAR IT
The look works best for evening. If a full on velvet dress is too much, try a fitted velvet jacket, worn with a crisp blouse or bare flesh, as an alternative to a tuxedo.


Dévoré is lighter and easier to wear than the regular cloth.


Keep a lint roller to hand - velvet picks up fluff.


HOW TO GET THE LOOK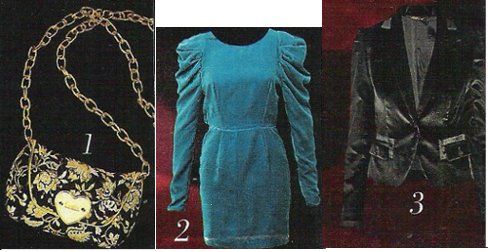 1
Jacquard envelope clutch, £195, by Luella.
2
Puff sleeved dress, £85, by
Black Label:asos.com
3
. Velvet blazer, £1,270, by Dolce & Gabbana.
All above text and images: The Sunday Times Style magazine.
MY HIGH STREET PICKS
1
Velvet Cocktail Short with Turn Up, £12,
Boohoo
2
Velvet Collar Princess Coat, £145, T.B.A at
Urban Outfitters.
3
Velvet Bodycon Dress, £35,
Topshop
.
I would personally find this trend difficult to wear as velvet can be hard to pull off, and depending on what you wear, can look dated at times.
I have a vintage velvet blazer from Harrods which I inherited from my Aunt, but I've only worn it on two occasions because I'm not too sure of it. However, my favourite velvet item is a chain strap bow bag from H&M from several years ago. It's gorgeous and remains one of my staples - I am never without it on a night out!
Once again I think accessories are the easiest option - a plain velvet bow hairband, or a clutch bag would be an instant update to your look.